Applied Research
Your expertise in applied research consists of designing and conducting research projects with a view to the development of new methods, new products or tools serving the integration of immigrants into the Québec labour market and Québec society.
Our experts conduct applied research in the service of companies and organizations by proposing innovative solutions to address the challenges they encounter regarding the socio-occupational integration of immigrants.
What we can do for you
Update the knowledge regarding social, educational and occupational integration of immigrants;
Conduct studies, analyses and diagnoses regarding the problems you encounter or that interest you;
Produce customized knowledge geared to the deployment of innovative actions within your organization or your sector of activity;
In collaboration with your team and with the assistance of research methods, develop practical intervention and support approaches with immigrants;
Provide expertise in quantitative and qualitative methods;
Search for funding for your projects.
Expertise adapted to your company or your organization
Our team of researchers can help you design and deploy solutions adapted to your company or your organization.
Discuss your needs with our experts. Contact us!
Some Examples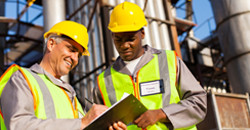 Diversity Management
Contextualized and participatory approach to corporate diversity management