Home
> Welcoming and training internationally educated nurses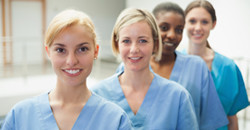 Welcoming and training internationally educated nurses
The healthcare sector is faced with a labour shortage that is pushing it to be concerned about the retention and optimum contribution of its human resources. It is also seeing increased diversification of its workforce, particularly due to the recruiting of internationally educated nurses (IEN).
Various barriers encountered by these nurses in their integration into the work environment are mentioned in the scientific literature, particularly regarding language, differences in practice, etc.
Although solutions are suggested, a need for concrete tools and practices to implement them persists. This action research project, conducted by IRIPI in collaboration with the McGill University Health Centre (MUHC), had the general objective of developing diversity in management tools favouring the integration and retention of internationally educated nurses within units of Montréal healthcare institutions.
A complete action research project was conducted, including twenty-four (24) research interviews and fifteen (15) work meetings with the partner. This led to the design of an IEN welcoming and integration manual, with the central objective of adapting orientation in the work environment to the special needs of each internationally educated nurse.
Type of service: Applied research
Investigator: Marianne Renard
Co-investigators: Pascale Chanoux, Danic Ostiguy, Thomas Gulian, Marie-Hélène Gour
Partner: McGill University Health Centre (MUHC)
Funding source: Ministère de l'Éducation, de l'enseignement supérieur et de la recherche
Project start date: June 2012
Project end date: March 2015