Home
> The intercultural approach adapted to employability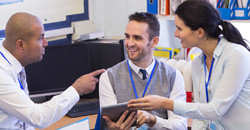 The intercultural approach adapted to employability
To meet the needs of the employment counsellors of a network composed of several community organizations (Réseau des organismes spécialisés dans l'insertion des nouveaux immigrants, ROSINI), using an intercultural intervention approach, the project allowed the development of an innovative approach facilitating occupational integration of immigrants into companies.
This approach is based on the idea of translation of the frame of reference between the immigrant and the host society to favour this integration.
The literature review showed that while the intercultural approach is highly developed, the practice tools do not allow support for the work of the ROSINI interveners in integrating immigrants into companies.
The project's objectives thus were to gather the corporate intervention situations with which the employment counsellors were confronted, create effective analysis and intervention tools to resolve these situations, and transfer them to the network.
The action research method used was based on the participation of network counsellors in the construction of tools through a practical exchange table and interviews with counsellors and immigrants.
Type of service: Applied research
Investigator: Thomas Gulian
Co-investigators: Alain Gagnon, Monica Schlobach
Partner: Réseau des organismes spécialisés dans l'insertion des nouveaux immigrants (ROSINI)
Funding source: Ministère de l'Éducation, de l'Enseignement supérieur et de la Recherche – PART program – Social Innovation component
Project start date: January 2011
Project end date: December 2013