Home
> The successful professional mapping of immigrant engineers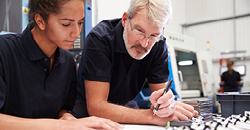 The successful professional mapping of immigrant engineers
The successful professional mapping of immigrant engineers is an applied research project. The socio-professional integration of highly qualified immigrant workers, including internationally educated engineers, is an unavoidable challenge for Quebec. This fact is particularly in a context of "war of talents". It is linked to the globalization of markets, advances in technology, the aging population and labour shortages. This project has been developed by IRIPI in partnership with CITIM. This community organization offers a specialized job search mentoring and coaching service to newcomer engineers.
The objective of the project is to produce innovative intervention tools, which can remove barriers to employment concerning the non-recognition of professional qualifications and experience acquired abroad by immigrant engineers. As a result, a successful career that matches their qualifications will be guaranteed.
We adopted a joint-action research approach, which requires the active involvement of stakeholders and their collaboration with researchers throughout the project.
The goal of this project is to develop a new approach. This will lead to the mapping of professional development paths (i.e. a professional navigation map). It will report on gateways and include specific requirements for various engineering disciplines. It will also take into account the opportunities, constraints and strategies for immigrant engineers along their career paths.
This mapping, of course, incorporates two factors to ensure that the professional integration of immigrant engineers matches their qualifications. First, it takes into account the qualification requirements of employers in specific engineering disciplines. Second, it includes a combination of strategies and resources that immigrant engineers can use along their employment integration path.
Type of service: Applied research
Person responsible: Monica Schlobach
Co-investigators: Danic Ostiguy
Funding source: Ministère de l'Éducation, de l'Enseignement supérieur et de la Recherche – PART program – Social Innovation component
Project start date: July 2016
Project end date: June 2018