Home
> Immigrant women's entrepreneurship: analysis of an online survey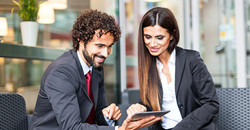 Immigrant women's entrepreneurship: analysis of an online survey
Entrepreneurship is a preferred means for immigrants to enter the Québec workforce.
Femmessor Montréal, whose mission is to promote female entrepreneurship as a job creation and economic development tool, has initiated a project entitled "Prospérer ici, venue d'ailleurs" (Prosper here, come from elsewhere). Its objective is to develop and implement strategies to ensure better cohesion between the entrepreneurship assistance programs offered in Montréal and the business projects of immigrant women.
Under this project, a survey with the goal of better identifying the obstacles encountered by immigrant women when they go into business had been submitted online to male and female entrepreneurs.
IRIPI's expertise in occupational integration of immigrants, and its competencies in quantitative and qualitative analysis, were mobilized on this occasion.
The report entitled Une analyse différenciée selon les sexes du sondage « Prospérer ici, venue d'ailleurs » (A gender-based differentiated analysis of the "Prosper here, come from elsewhere" survey) highlighted notable differences between men and women concerning the difficulties encountered in entrepreneurship and the expectations of support.
Type of service: Technical support
Person responsible: Frédéric Dejean
Funding source: Femmessor Montréal
Project start date: September 2014
Project end date: November 2014