Home
> Facilitating an inclusive union culture for occupational integration of immigrants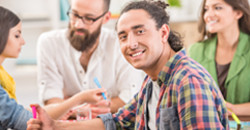 Facilitating an inclusive union culture for occupational integration of immigrants
Description of the project:
Québec employment environments are characterized by major cultural diversity. This reality is leading labour organizations to question their practices and the support for these workers' demands.
A central labour organization associated with IRIPI to conduct action research with the goal of documenting the unions' existing actions and the workers' expectations, but also to develop tools to support the union representatives' interventions with immigrant workers.
This research is roganized around semi-structured interviews with union representatives (25) and immigrant workers (20). Through these interviews, the purpose is to document the problems encountered by the representatives in the field, on the one hand, and the workers' expectations and realities, on the other hand.
The information collected during this interview phase will serve as raw material for the development of tools according to an inclusive approach that accounts for the specificities of immigrant works while integrating them into modes of union action and representations addressed to all workers.
Type of service: Applied research
Investigator: Frédéric Dejean
Co-investigators: Danic Ostiguy and Marianne Renard
Partner: A Québec central labour organization
Funding source: Ministère de l'Éducation, de l'enseignement supérieur et de la recherche –PART program
Project start date: January 2015
Project end date: December 2016