Home
> Educational paths and representation of science to youth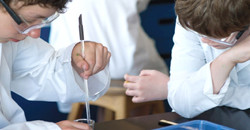 Educational paths and representation of science to youth
Towards the end of their elementary education and especially in the first half of their secondary education, some students lose interest in mathematics or scientific disciplines.
This research project considers the ways students perceive their learning and orient their aspirations in order to highlight factors that would favour engagement regarding science.
It seeks to understand the students' engagement factors regarding learning of mathematics and science at school by examining the meaning they confer on these subjects and their learning.
The method of Charlot and his team was chosen and adapted to this research objective: knowledge assessments were written by the students themselves, allowing the profiling of the typical student in the participating Francophone schools.
The diversity – particularly the ethno cultural diversity – of the school population of Greater Montreal will allow special attention to be paid to the intercultural dimensions of the representation of science to youth.
Type of service: Applied research
Persons responsible at IRIPI: Sarah Mainich, Philippe Nazair
Principal Investigator: Guy Gibeau, Collège de Maisonneuve
Co-investigators: Emmanuel Montini, Collège de Bois de Boulogne, Yvan Saint-Aubin, Université de Montréal, Pierre Doray, UQAM.
Partner: Centre de développement de la relève scientifique et technologique (CDRST)
Funding source: Social Sciences and Humanities Research Council
Project start date: January 2015
Project end date: September 2015