Home
> Contextualized and participatory approach to corporate diversity management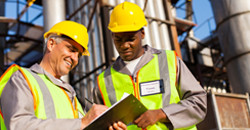 Contextualized and participatory approach to corporate diversity management
To meet the needs of a Montréal company that wanted to have immigrant integration tools adapted to its work context, this project allowed the development of an innovative approach to corporate human resources management in a context of diversity.
This "contextualized and participatory" approach proposed an innovative method of diversity management adapted to the company's work context and involving the employees.
The project preferred qualitative methods (observations, interviews and documentary analysis), based on action research principles
This research made it possible to create human resources management tools that addressed various functions (screening and selection, recruiting, integration into the teams) and thus supported several steps of the process of integrating immigrants into the company.
These tools were tested situationally with the employees' cooperation, and then improved.
Type of service: Applied research
Investigator: Thomas Gulian
Co-investigators: Danic Ostiguy, Monica Schlobach
Partner: A Montréal petrochemical company
Funding source: Ministère de l'Éducation, de l'Enseignement supérieur et de la Recherche – PART program – Social Innovation component
Project start date: August 2010
Project end date: September 2012