Home
> Analysis of programs supporting companies in the implementation of diversity management measures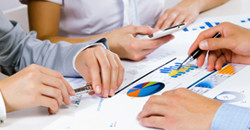 Analysis of programs supporting companies in the implementation of diversity management measures
With the goal of establishing a program to support companies in cultural diversity management, CRE de Longueuil (the Regional conference of elected officers) called on IRIPI to obtain a better understanding of the action logics of local and partnership support programs.
It was decided, by mutual agreement, to study five programs deployed in Québec by territorial organizations. IRIPI then conducted documentary research and semi-structured telephone interviews with the managers of these programs.
These two activities made it possible to recognize that all the programs analyzed arose from economic action logics focused on effectiveness and efficiency.
In addition, certain key success factors of these programs could be highlighted: the importance of the awareness and communication activities developed by the programs, and the close proximity of the organizations to employers, partners and funding sources.
Type of service: Technical support
Person responsible: Pascale Chanoux
Resource person: Thomas Gulian
Funding source: Conférence régionale des élus (CRE – Regional conference of elected officers) of the Longueuil Agglomeration
Project start date: March 2010
Project end date: September 2011