Home
> Accelerating occupational integration of immigrants: an innovative project in adaptation and recognition of competencies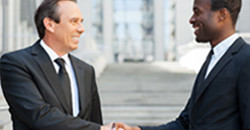 Accelerating occupational integration of immigrants: an innovative project in adaptation and recognition of competencies
Among the obstacles that limit access to employment for immigrants, the question of recognition by employers of the competencies acquired abroad is probably the most salient aspect.
In this regard, the project proposes an innovative approach to recognition of achievements and competencies to overcome this obstacle.
Prior Learning Assessment and Recognition (PLAR), based on the idea that learning can be lifelong in multiple situations (work, various involvements), is a promising approach. However, if PLAR accounts for the individual profile, it essentially results in the acquisition of a diploma as a condition for entering the labour market. It thereby does little to meet the urgent needs of immigrants for occupational integration.
By offering an innovative process of Prior Learning Assessment and Recognition geared to labour market needs and individualized socio-occupational support, the project allows facilitation and acceleration of the integration of immigrants.
The approach considerably shortens the PLAR approach and allows accelerated integration of immigrants into the labour market.
This project was tested in 2 phases: a first phase in the information technology sector (2012-2013) and a second phase in the accounting and management sector (2013-2014).
Type of service: Technical support
Persons responsible: Pascale Chanoux, Daniel Laurin and Sophie Houle
Resource person: Thomas Gulian
Collaborator: Daniel Laurin
Partner: Service de la reconnaissance des acquis et des compétences (RAC) of Collège de Maisonneuve (Prior Learning Assessment and Recognition Service – PLAR)
Funding source: Conférence régionale des élus de Montréal (Regional conference of elected officers)
Project start date: 2012 (project 1), 2013 (phase 2)
Project end date: 2013 (project 1), 2014 (phase 2)