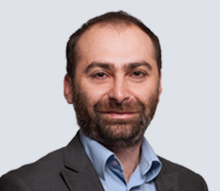 Training and experience
Thomas Gulian holds a Doctorate in Political Science from the Université de Montréal (2009) and a Master's in Social Sciences (specializing in Anthropology) from the École des hautes études en sciences sociales (France, 2000). He has worked for nearly fifteen years in research and social innovation for various organizations (community organizations, private firms, universities, public and parapublic organizations) in Québec and France. He has worked at IRIPI since 2009, first as a researcher and then as Director from January 2014 to March 2019.
Parallel to his position as Director, Thomas Gulian conducts research projects, particularly as a regular investigator with the InterActions team of CIUSS du Nord de l'île de Montréal. He is also a member of the Réseau québécois en innovation sociale (RQIS).
Areas of expertise
Integration of immigrants into the work environment;
Ethnocultural diversity management;
Social innovation;
Action research;
Partnership research.
Vision
Social innovation as a fairer and more sustainable response to the problems of integration of immigrants into the Québec labour market and Québec society;
Partnership and collaboration among diverse players as a source of social innovation.
Stands out for
His finely-tuned knowledge of the environments and issues related to integration of immigrants;
His ability to mobilize varied partnerships around a common objective;
His concern for meeting the partners' needs and finding solutions;
His taste for innovation.
Follow him on LinkedIn