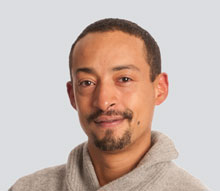 Neal Santamaria
Doctoral student and Master's in Sociology, Master's in Anthropology
Researcher

Training and experience
Neal Santamaria has been a researcher, project manager and social worker in France, the Dominican Republic and Quebec.
His work has focused on the reception of immigrants in Quebec and elsewhere, and their employability, as well as undereducation and religion.
Neal joined IRIPI in February 2016. He has participated in research on employer recognition of immigrant candidates' degrees, experience and skills. He has also helped to develop tools for social workers to assist immigrants settling in the regions and to create an intercultural guide for SMEs. Since December 2016, Neal has been responsible for developing IRIPI activities and coordinating support for organizations. His goal is to provide tools and customized coaching to optimize human resources management in the context of cultural diversity.
Areas of expertise
Immigrant and refugee reception programs;
Adaptation of human resources management practices in the context of diversity;
Immigrant employability.
Research lines
Intercultural social work;
Employer recruitment practices and work-related barriers faced by immigrants;
Immigration regionalization;
Refugee reception in Quebec.
Vision
Promote intercultural dialogue in the workplace for the benefit of both employers and immigrants;
Facilitate communication between workers and employers in Quebec;
Promote peaceful coexistence through exhaustive, innovative research.
Stands out for
His wealth of experience in research and social work;
His extensive knowledge of a range of subjects, including human resources management issues, immigrant reception and religion;
His ability to explain complex matters;
His command of a variety of communication methods.
Recognized for
His rich and varied career experiences;
His ability to adapt to different audiences;
His creativity when it comes to developing tools.
Follow him on LinkedIn