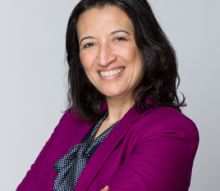 Training and experience
Mounia Benalil holds a PhD in Intercultural Studies and Post-Colonial Theories from the University of British Columbia. She has gained extensive field experience by working with various stakeholders from civil society in the course of structural projects for the community.
In March 2017, Mounia joined the IRIPI team. She is leading a research project on the potential of entrepreneurship in the professional integration of immigrants. In addition, in September 2016, she was appointed as Commissioner of Public Consultations by the Executive Council of the City of Montreal.
Mounia also led three postdoctoral research projects:
L'Orientalisme au Québec [Orientalism in Quebec], McGill University

Funded by the Fonds québécois de la recherche sur la société et la culture (FRQSC)

La place de la Francophonie dans la mondialisation [The Place of Francophonie in Globalization], Université de Montréal

Funded by the Social Sciences and Humanities Research Council of Canada

Les accommodements raisonnables au Québec et la question du « voyou » en relations [Reasonable Accommodations in Quebec and the Question of the "Rogue" in International Relations], Centre de recherche interuniversitaire sur la société et la culture québécoises of Univerté de Montréal

Funded by the Secrétariat aux affaires intergouvernementales canadiennes.
Areas of expertise
The challenges of representing the other in the knowledge economy;
The repercussions of radical ideologies on the future of intercultural relations;
The role of media discourse in the debate on inclusion;
The integration of immigrants into the entrepreneurial ecosystem of Quebec and Canada.
Research lines
The interface between research and public action in the field of social science;
The development of an open concept of innovation involving a mobilization of academic and economic ecosystems.
Vision
Investing in the potential of partner-oriented research in innovation;
Understanding the unique trajectories of immigrants, reflected in the "mobility" of their life stories;
Questioning and comparing the patterns of professional and socio-cultural integration of immigration/inclusion programs;
Encouraging collaboration among students on innovation projects. 
Stands out for
Her multidisciplinary educational background has prepared her to seek out innovative solutions to complex issues;
Cross-disciplinary competencies;
Cutting-edge knowledge of research methodology in the humanities;
A collaborative approach among committed, innovative stakeholders in the implementation of solutions to the problem of immigrant integration.
Recognized for
Great capacity for adaptation and transfer of acquired knowledge and skills;
Passion for action research;
Professional skills;
Interpersonal skills.
Follow her on LinkedIn